Ready for a fresh, clean laundry room?
Fill out the form below to get started!
Aaxon Laundry Systems is a commercial laundry equipment distributor of Speed Queen commercial multi-housing laundry equipment in Florida. We off a full line of reliable, profitable Speed Queen laundry equipment for any multi-housing laundry need.
We offer:
The utmost in convenience with app and card operated laundry equipment.
Leading edge laundry amenities.
Sophisticated washers and dryers.
Highest quality service for your multi-housing laundry room for your apartment or condominium.
Laundry leasing program.
Competitive Profit Sharing.
Fill out this form below and our Account Executive will get back to you shortly.
Why Lease With Aaxon For Apartments and Condos
When you choose Aaxon to lease
Revenue-Sharing Plans
These plans provide an income stream for qualified properties without any effort on your part.
Free on call laundry technician
Service calls average $200 per repair, including diagnosis, parts, labor. Aaxon will include repair and maintenance as free services.
New Washers and Dryers for Free
Aaxon will deliver and install new machines as well as remove tired, worn- out ones.
Repairs Add Up
Many laundry equipment owners underestimate their annual repair bill, which can easily be hundreds of dollars per machine each year.
Get Your Free Location Survey
We understand choosing a laundry room solution for your multi-housing property is a big deal. Laundry is an important daily chore for all residents, after all! And providing residents with a comfortable, safe and efficient laundry room is key to sustaining happy residents for years to come.

That's why we offer a complimentary location survey where our Account Executives inspect the current or prospective laundry facilities and make recommendations on equipment mix, pay system options as well as possible infrastructure including venting and plumbing. Included with the survey, is your own drawing of your laundry room which will display the laundry room with proper machine placement in CAD, 3D or Photo Realistic Rendering view.

Aaxon Payment Options
Make life easier for you and better for your residents.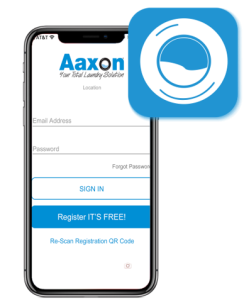 Aaxon Pay
Aaxon Pay
Mobile technology is revolutionizing payments; laundry is no exception. Aaxon Pay is specifically designed for the laundry industry.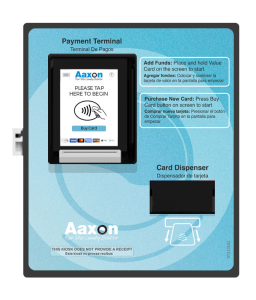 Aaxon Credit Card Kiosk
Aaxon Credit Card Kiosk
Accepts Credit/Debit Cards, Chip and MSR cards, and accepts Value Code.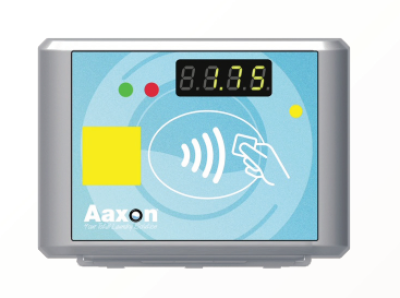 Aaxon Tap Reader
Aaxon Tap Reader
Offers best in security, ease of use for customers and reduced maintenance.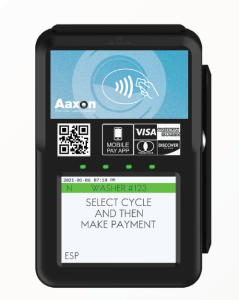 Aaxon Credit Card Reader
Aaxon Credit Card Reader
Choosing the right payment system for your customers' laundry room is a critical cost decision. No two laundry installations are the same....
Well, reason for my mail is to recognize Lori Maron for her outstanding service over the past 8 years when we first signed up with Aaxon. As you know, we have recently signed an extension and are expecting delivery of new equipment in about 3-5 weeks. It was relatively easy to convince the Board of Directors to extend the contract, I personally think that is in large part due to employees like Lori. If only 20% other of vendors had the same caliber of employees like you, my life would be much easier. I am not easily persuaded to provide references for vendors, but can say with conviction Aaxon will not disappoint!
Holger Lutz, CAM, David William Hotel Condominium
It was a very big decision for the community to outsource our laundry system. Waterford Point Condominium's laundry rooms are now operating at their best, and Aaxon is happy to play a part in improving such an important task in residents' daily lives. I'm happy to commence this project together.

Michael Sparano, Property Manager, Waterford Point Condominium
My experience dealing with Aaxon since the beginning has been beyond spectacular. "From the contract negotiations to the scheduling of removing old equipment and putting in new, to the final completion- everything has gone smoothly! The equipment and technology they provided to the building are excellent, above the industry standard. Their commission split is very competitive. I highly recommend Aaxon for your laundry business needs.

Steven Zamora, Atlantic Pacific Management