Entrepreneurs & Investors
Invest in a Laundromat
We are proud to serve the state of Florida for all your commercial laundry equipment needs. Some cities in our territory include Miami, Palm Beach, Fort Lauderdale, St. Petersburg, Orlando, Tampa, Port St. Lucie, Cape Coral, Clearwater, Lakeland, Daytona, Tallahassee.
Do you like to be your own boss? Are you a strong independent, entrepreneur? Most of all, are you looking for a healthy return-on-investment (ROI)?
If you've answered "yes" to these questions, the vibrant laundromat industry may be an exciting industry for you to explore.
Since two income households now make up the majority of the workforce, busy families save time and money by doing their wash at the local self-service laundromat. Furthermore, many young couples have neither the need nor desire to buy washers and dryers. Their priorities are nice clothes, entertainment, and leisure activities. They are happy to leave laundry chores up to a professional wash/dry/fold service at a local professional laundromat.
There's a reason Aaxon is so prolific in new laundromat development. This team is so skilled in helping current owners maximize profits with Huebsch equipment and getting new investors off to fast starts.
Eric Meyers, General manager of OPL and laundromat segments, Alliance Laundry Systems.
Consider some of the benefits of investing in a laundromat

Owners choose Huebsch laundry equipment for its reliability, efficiency and profit-producing control platforms.
Absentee ownership.
Tax deductions are available using section 179 and bonus depreciation.
Laundromats have always been considered recession-resistant. Now with the current pandemic, it has built on this strength with an "essential business" title.
Average of 30%-40% ROI!
Washing laundry is a repetitive necessity of life like food, clothing and shelter.
Virtually no inventory control shrinkage, spoilage or theft.
Laundromats can be run successfully on a part-time basis.
The card system or the coin box is a cash register, and you get paid up-front for use of the machines.
Good for Retirement!
Stable Income!
Laundromats are scalable, therefore future expansion or multiple-store ownership can be achieved.
Labor is minimal. An attendant keeps the store clean and handles the wash/dry/fold service.
This is not a franchise therefore there are no franchise fees.
Rewarding Experience.
A laundromat from Aaxon can be a very rewarding experience! We have worked with many entrepreneurs like you. At Aaxon, we are your full service laundromat source! We can guide you with such things as securing a location, lease, permits and installation of the equipment, with you the customer making all the final decisions.
Consider the Long Term Value of Investing in a Laundromat.
Laundromats with proven track records are sold with relative ease and at top dollar. Just like other types of real estate, laundries appreciate in value. If you've run a profitable laundry and five years later decide to sell, you may expect to find a buyer quickly and, in most cases, your laundry will command a much higher price than you paid. In many cases, stores pay for themselves in just a few years, leaving you with a 'nest-egg' that may be far better than a conventional savings account, IRA, 401k, money market, or mutual fund.
Business Bios
The store was originally a Sizzler steakhouse, which was turned into a self-service laundry by a previous owner. However, the facility eventually devolved into a rundown laundromat. At this point, Aaxon Laundry Systems, over the course of eight months, designed and rebuilt the store into a modern, upscale vended laundry. Today, Laundromart features a bright, comfortable décor - with a separate lounge area that includes a number of table-and-chair seating units; 60-inch televisions; vended food, snacks and beverages; and video/arcade games.

Williams was a TV news producer until he opened his store on December 1, 2017. William leases his store's location and has a large shopping center parking lot. The site of Loads of Clothes was previously an older, outdated laundry. Williams and Aaxon Consultant, Frank P. D'Annunzio, redeveloped the laundry into the modern facility it is today. The laundry is located in an extremely diverse area made up of multiple ethnicities as well as low and middle-income households.
Theo Spyer was a former Controller at a local laundry distribution company, Aaxon Laundry Systems in Fort Lauderdale, FL. Now, Theo leases his store's location. The store was originally an old, outdated laundromat. He also has 1 beverage vending machine with assorted soft drinks, juices and water and 1 snack vending machine with assorted snacks. Additional amenities include lounge seating and four Solomatic modular seating units.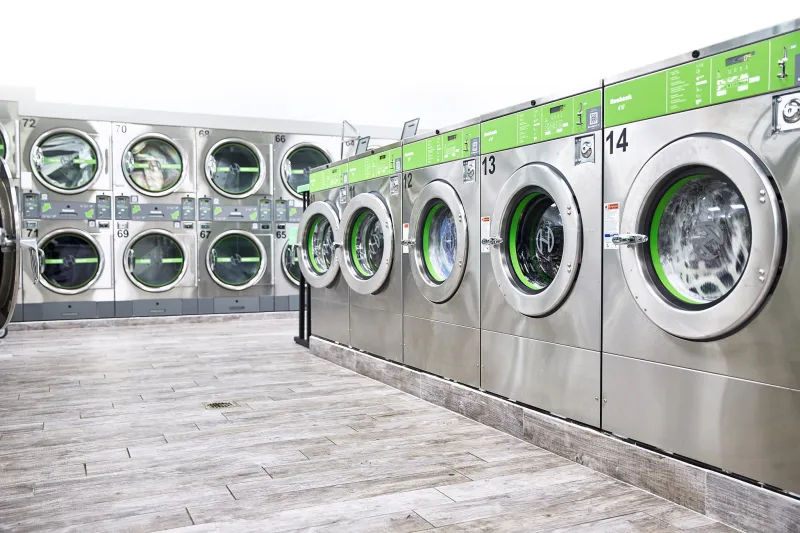 Protect Your Investment
If you purchase a laundromat that has a strong monthly performance, you'll want to find ways to improve your store's execution and add to the overall value of your laundromat:
Replace older, tired equipment, with new energy efficient and of course profitable laundry equipment. Aaxon is the only factory-authorized laundromat distributor of Huebsch premier commercial laundry equipment in Florida. Aaxon also offers a full-service parts department, supplying replacement parts at guaranteed lowest prices for all major commercial laundry equipment brands.
Provide a clean, safe environment. Your customers won't want to wash their clothes in a dirty laundry. They'll expect a pleasant atmosphere that will make them feel good about being there. You may want to consider our remodeling and design services. After all, the key to success is a clean, safe store.
Ready to turn bubbles into ROI?
*This is not a Franchise or Business opportunity. Nothing contained herein shall be construed as creating a franchise relationship.